Contributions
Share files, events, or other information that will benefit the community. Here is how you can do it.
Why contribute?
There are many sources of information on the garment/textile industry in Asia.  The Asia Garment Hub aims to be a central repository of information on the sector.  Any information on the Asian garment/textile industry shared in the portal will enrich the knowledge resources available to members and other stakeholders.  The information available on the portal will keep visitors informed and empowered.


What can members contribute?
Latest news, events, data, and other information on the Asian garment/textile industry may be helpful.  The following forms are available:
Event - information about an activity or event
File - an electronic document in such as PDF, office formatted data (.doc,.xls,.ppt,.etc.), audio, or video 
Image - photos or graphic files
Link - a link to information from another website
News Item - an article on a topic, event, or activity 
Media Link - a link to content published from popular media providers such as Youtube, Vimeo, Spotify, and others.


How to contribute?
To contribute content to share with others or the public, members need to login and go to their home folder.  There they can access the toolbar and "add" icon which lists items that can be uploaded to the portal.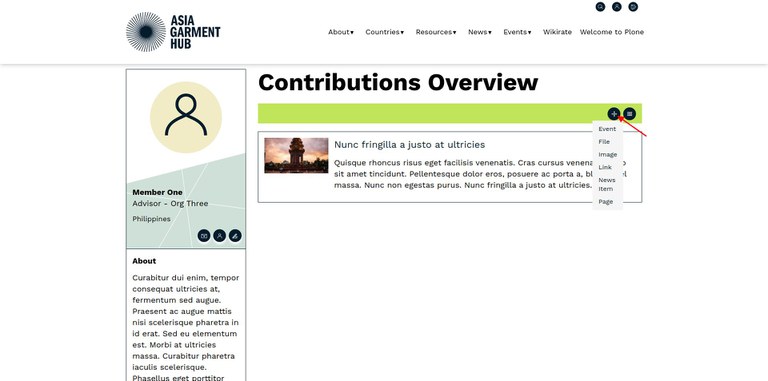 Each content type will have different fields that need to be filled-in.  Required fields are marked with a red dot after the field title.  Fill-in the required fields and click on the "Save" button.


How to share content with other members and the public?
By default, content that is newly contributed are in the "Private" state.  This means that the item can only be seen by the author.  To share content with other members or the public, the creator needs to "submit" the item for publication using the toolbar.  Submissions will be reviewed by content administrators and they will decide if it will be published for members only or the public.  Authors will receive an email form the system after the review process and an action has been done.