Responsible Wage and Digitization: Empowering Cambodian Industry
EuroCham's Responsible Business Hub, in collaboration with RISE and Better Factory Cambodia (BFC), is thrilled to present the upcoming Public-Private Dialogue Event (PPD) titled "Responsible Wage and Digitization: Empowering Cambodian Industry."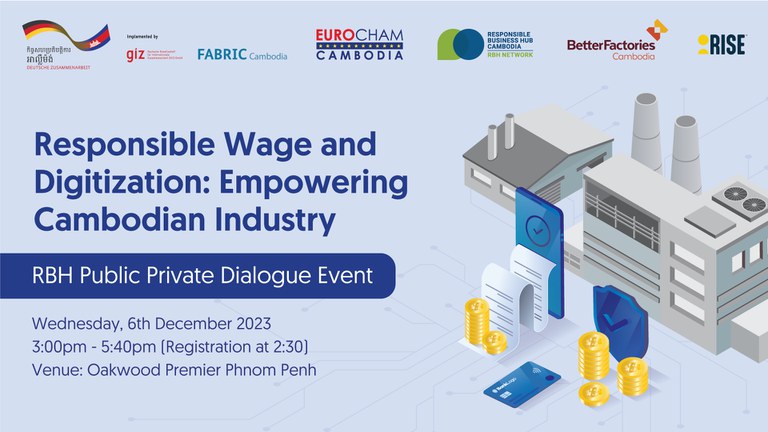 EuroCham's Responsible Business Hub, in collaboration with RISE and Better Factory Cambodia (BFC), is thrilled to present the upcoming Public-Private Dialogue Event (PPD) titled "Responsible Wage and Digitization: Empowering Cambodian Industry."
The global garment industry is rapidly adopting digital wage systems for their speed, transparency, and efficiency. Beyond these advantages, digital payments have the potential to empower workers, especially women, by providing them greater control over household finances.
Despite these benefits, Better Work (ILO) data reveals that Cambodia's garment industry lags in the adoption of digital wage payments compared to its global counterparts. With nearly one million workers, 80% of whom are women, about half of these workers still receive their wages in cash twice a month.
In the midst of this, Cambodia's financial landscape is evolving rapidly, accelerated by the COVID-19 pandemic's push toward digital transactions and reduced physical interactions.
This event seeks to illuminate the current status of digital wages and literacy within Cambodia's private sector. It will address potential unintended consequences and outline necessary actions to improve digital payment practices.
During this event, you will explore the key questions:
How can we contribute to responsible wage digitization in the remaining factories?
What is the relationship between digital wages, the digital economy, and e-commerce in Cambodia, and how does it impact over-indebtedness?
In what ways do workers benefit from wage digitization?
How can multi-stakeholder partnerships be formed to drive the adoption of digital wages and enhance financial literacy?
Event Details
Date: Wednesday, 6th December 2023
Time: 2:30PM-5:40PM
Venue: Oakwood Premier Phnom Penh
Ticket: Free Entry
FREE ENTRY to this important event — Register HERE
When

Dec 06, 2023

from 02:30 PM to 05:40 PM

(Asia/Bangkok / UTC700)

Where

Oakwood Premier Phnom Penh

Contact Name Sivheng Hoeng
Add event to calendar

iCal