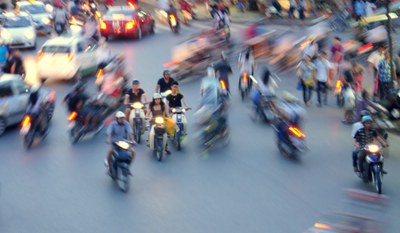 Why it is important to improve road safety for garment workers
Every year, more than 24,970 people die in traffic accidents in Vietnam. The figures show that road crash rates are 1.7 times higher in industrial zones, where also most garment factories are located, compared to other national rates in the country. Thereby the safety of workers in the garment sector is not only at risk during working hours in the factories but also on their way to and from work. This group is particularly vulnerable to traffic accidents as they continue to travel on dangerous roads without the necessary safety measures.
Transport safety is a topic long ignored but a number of tragic incidents related to deaths of factory workers in Vietnam have caused people to start paying more attention to this topic. In Cambodia – a country on the rise of industrialization like Vietnam, nearly 700 workers in the garment industry suffered from traffic accidents in 2019 (Report Social Insurance Fund of Cambodia 2019).
Traffic accident injuries not only affect the lives of victims and their families through loss of work ability, death, trauma, and injury, but also have a significant socioeconomic impact on businesses through turnover and absenteeism. This includes negative economic consequences due to loss of effective labour supply and productivity. Previous research estimates an economic loss of 3-5% of GDP in low- and middle-income countries (WHO, 2015).
Why a report on transport safety in the garment sector is much needed
Even if transport safety of factory workers has emerged as a key area for improving worker safety, existing research on the topic in Vietnam remains limited. The report "Analysis of Transport Safety in the Garment Sector in Vietnam" attempts to improve the knowledge of road safety for garment factory workers and inform future recommendations and programmatic interventions. The report draws its sources from a larger-scale study conducted for Vietnam and Myanmar in early 2020. Study and report were prepared by the non-profit organization AIP Foundation and supported by H&M, Primark and the regional GIZ FABRIC project (Promoting Sustainability in the Textile and Garment Industry in Asia).
What specific recommendations does the report provide?
The report summarizes the study's key findings for Vietnam and identifies what laws the Vietnamese government has already enacted to protect the public on the roads. Based on this foundation for road safety in industrial areas, the report identifies where further legislation, funding and enforcement are needed. It identifies specific recommendations, including the need for increased law enforcement by the police to prevent traffic violations in high-risk areas like industrial zones.
Other recommendations for fashion brands include setting high workplace safety standards for factories, funding specific annual training, or working collaboratively with factory leadership. As a factory manager you can promote safe driving behaviours by implementing and enforcing policies. Simple measures such as having a valid driver's license and requiring helmets are good examples.
You would like to learn more about what other specific recommendations and actions are needed for fashion brands, researchers, local and national governments, garment factories, international development organizations and multilateral stakeholders to successfully implement road safety in the garment sector? Click here to read the full report.
0